Time To Read:
4
minutes
Construction is a professional field that requires skills and unique equipment because, for the most part, the workplace is as rugged as it is dangerous. Contractors and construction workers already have it in their mind that choosing the right equipment is one of the most important considerations they need to take to work in construction; phone durability being one such consideration.

Worksites create many challenges for phone operations. Along with the dust and dangerous equipment, the noise, moisture, extremes in temperature, and exposure to other outdoor elements can play havoc with how phones function. All of these challenges are important to address when selecting a construction worker phone.
More Than Just a Phone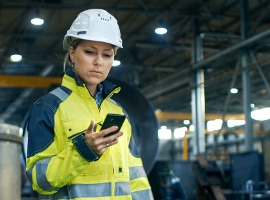 Contractors and construction workers understand their phone and tablet is more than just a tool to make and receive calls. It also provides vital emails, visual plans, and state-of-the-art applications that are crucial to their job.
Yet, at the same time, their phone needs other unique qualities to be used in a construction zone, such as durability, reliability, range, and exceptional application capabilities. With these qualities in mind, we have found the best construction phones on the market for contractors and construction workers.
If durability is your most significant concern, the Brigadier by Kyocera should be near the top of your list. Built with military-grade 810G protection against dust, extremes in temperature, shock, vibration, and moisture, the Brigadier may be one of the best phones for construction workers.
The high-quality front speakers are loud enough to be heard over some of the noisiest equipment. The Smart Sonic Receiver can also turn sound into vibration, allowing the user to hold this durable cell phone near the ear and hear the conversation over any background noise. The screen is vibrant and clear and is glove-sensitive. However, its most unique feature is its touch-to-talk capability, allowing you to speak instantly with up to 250 people.
Brigadier by Kyocera – $264.99
Front-facing powerful speakers
Military-grade durability
Push to talk capability
Glove touchscreen
The technicians at Sonim state that their mission was to create an ultra-rugged smartphone, and with the XP7, they accomplished that task. It provides a water-resistant screen that does not lose sensitivity when touched by wet fingers. Shock, dust, and moisture-proof, it is capable of handling the elements at almost any work site. The manufacturer is so confident in its durability that this construction cell phone comes with a three-year warranty.
Other features include extra loudspeakers, great for conversations that are challenged by power tools. It also provides enhanced screen brightness, which allows its user to see images clearly in direct sunlight. The battery life of this model guarantees you won't run out of juice on-site. The Sonim XP7 also has access to vertical enterprise safety and productivity applications.
Sonim XP7 – $251.99
Best warranty
Enhanced screen brightness
Glove ready touchscreen
Water-resistant
No other contractor phone on the market offers the water-resistant qualities of the Sony Xperia Z3 Plus. You will have no worries if you drop this phone in a bucket of water as it can stay submerged for up to thirty minutes in three feet of water and still function. Its screen is sensitive to wet and gloved hands, making it ideal for inclement weather.
The Sony Xperia Z3 Plus also features extended external memory and full application running ability. It has a front-facing camera, and in those areas where reaching your favorite station is challenging, it has FM radio capabilities as well. The camera includes stabilizing technology, perfect for capturing those worksite pictures that are not in ideal locations.
Sony Xperia Z3 Plus – $169.99
Waterproof
Upgraded memory
Front-facing camera
Excellent price point
In keeping with the tradition of its line of durable phones, Kyocera launched its DuraForce Pro 2 model, featuring its exclusive Sapphire Shield screen protection. The state-of-the-art screen is scratch-resistant and provides diamond-hard protection. As with the Brigadier, the DuraForce Pro 2 offers military-grade durability along with a two-year warranty. Its long-lasting battery charges at lightning-fast speeds as well.
It features a set of strong speakers, allowing for more effortless hearing in noisy locations. The DuraForce Pro 2 is also compatible with Vibes accessory systems, and its extended battery life gives the user twenty-one hours of talk time on a single full charge. The manufacturer has also provided memory upgrades, allowing for greater document storage.
Kyocera DurForce Pro 2 with Sapphire Shield – $399.99
Best available screen protection on the market
Extended battery life
Extended warranty package
Expanded memory
The CAT S52 Smartphone was built with one purpose in mind, durability. Constructed with a Gorilla Glass screen, this construction phone is perfect for contractors and construction workers. Although the screen is the toughest on the market, it is sensitive enough to pick up touches from gloves and wet fingers, and the high-quality speakers are strong enough to be heard over the noisiest machinery.
The phone was built to military specifications and is dust and shockproof. It is also entirely functional even after being completely submerged in water. The battery is robust and provides a brightly lit screen for easy readability in direct sunlight. Its high-performance camera with dual-pixel technology offers highly detailed photos of any worksite.
CAT S52 Smartphone – $359
Excellent screen durability
High-quality speakers
Waterproof
A readable screen in direct sunlight
Choosing Your Phone
When deciding the best phones for construction workers, make sure you take all factors into account. Assess your workplace needs. Examine your typical work environment along with all possible substances and conditions such as dust, temperature extremes, moisture, and noise levels. If you store your phone in an area where it can get scratched or damaged, make sure to consider this as well.
Also, take inventory of your storage and application usage. If your job requires you to examine documents, pictures, or other items, the screen size, brightness, and screen clarity are important factors. Once you determine and evaluate every facet, you will be in a position to make the best decision.
Get Started With Contractor Software!
Contractor software helps you run your business more efficiently with features such as scheduling, dispatching, reporting, invoicing, and more.