Time To Read:
14
minutes
Garage door replacement should not be taken lightly. It involves more than taking down your current garage door and installing a new one.
Many factors can affect garage door prices, such as the size of your garage door or even the type of material you choose for your new door.
This guide will give you an idea of the cost of new garage door replacement for your home improvement project. We will cover the different factors that can affect the price and how to get a quote.
How Much Does a New Garage Door Cost?
Garage door replacement is $500-$2,500 on average, but this may vary depending on the size and type of door. For example, if you are looking for a custom-made steel door, it will be more expensive than a standard wooden one.
It is essential to consider a few factors when looking for quotes for your garage door replacement. For example, the size of your door, the type of material you want, and whether or not you want to add features such as windows or insulation can all affect your garage door installation cost.
Garage doors are a significant part of the exterior aesthetic of your home. They are also important because they protect from intruders; both people and pests.
Garage Door Replacement Cost by Garage Size
Garage doors come in various sizes, which means that the replacement price will also depend on the size of the door you need to install. Garage door sizes include 6, 7, and 8-foot doors.
The cost of installing a small-sized garage door varies from $500 to $2,500. The cost of installing a medium-sized garage door varies from $1,100 to $4,700. And, The cost of installing a large-sized garage door runs from $1,600 to $7,000 depending on the size of the replacement that you need.
If you are looking for only installation services, the average cost will be around $600 to $750.
Garage Door Type, Materials, Brand, and More
Garage doors are a great way to add curb appeale and protection to your home. They come in many different materials, styles, and brands.
The type of material will depend on what you want the door to look like on the outside of your home and how much protection you need for the inside of your garage.
Different brands offer various garage door options and benefits.
If you are looking for a new garage door, you should consider these factors before making a purchase:
What type of door do I need?
What material should I buy?
What brand should I buy from?
How much should a new garage door cost me?
Types
There is the standard, insulated, steel-reinforced garage door, and the carriage garage door, among others. These come in many different styles and sizes to suit your needs.
The most common type of residential garage door is an up-and-over door. These are usually made from steel and aluminum panels assembled on site. The panels can be finished with various colors and textures, including wood grain finishes.
The type of garage door you choose will depend on your budget, the style you want, and how much space you have.
A roll-up garage door is a garage door that rolls up into the ceiling. The benefits of this type of garage door are its low cost and easy installation. However, it cannot be opened from the inside, making it difficult for people to enter or exit the house.
Roll-up garage doors are usually the cheapest type of garage door. They are also the most popular type of garage door in the United States.
Pros
Ease of installation
No noise from opening or closing 
Low maintenance costs 
Cons
Limited space for storage on top of the door
Little to no ventilation on top of the door, which can cause mold to grow and make it difficult to see inside your garage
The roll-up garage door is a simple and inexpensive way to enclose your carport or create more living space in your home. This type of garage door is either manually operated by pulling on a handle or motorized with an electric system.
The glass roll-up garage door is known for its sleek and modern look. It also provides natural light to the garage space, which can be helpful for those who work from their home office or have hobbies that require a lot of light. However, this type of garage door costs more than a traditional one and can be challenging to maintain in colder climates.
Pros
Provides a clear view of the inside of the garage, which is helpful when you need to park your car or retrieve something from your storage
Provides better insulation than most other doors
Can be opened all the way up for maximum ventilation when necessary
Cons
Cost is usually higher than other door options
A strong enough impact can break the glass panels
The glass on a glass roll-up door is made of tempered glass. It is stronger than regular glass and can withstand temperature changes without breaking. It also has an anti-reflective coating that will make it easy to see inside the garage.
There are two types of French garage doors available on the market: single and double-panel.
The single-panel door is a lot cheaper. However, it is not as durable or secure as the double-panel door.
The double-panel door has a higher price, but it lasts much longer and provides more security than the single-panel type.
French garage doors also offer better visibility of your garage to passersby and make it easier for you to look out through them when you're parked in your car outside.
Pros
More light in the room because they have more glass than other types of doors
Easier to clean because they have fewer gaps between the panels
Easier to install them on sloped surfaces because you don't need a threshold
Cons
French doors are typically made of wood, and they can be used as both an entrance and an exit. Therefore, they are also known as French or bi-parting doors.
The average cost of a French garage door is about $1,700 to $5,000. This is the price for materials only and does not include labor.
Sectional Garage Doors come in many sizes. The door is divided into panels that can be opened separately to allow larger vehicles to enter. However, sectional garage doors are heavier than other doors so installation costs may be higher.
Pros
Offer more space
Come in a variety of colors and sizes
Less expensive than rolling steel or wood garage door types
Offer more insulation
Cons
More expensive to install
Storage is limited because they only go up to the ceiling
A sectional garage door is an excellent option for homeowners because it is cost-effective and easy to install. The average cost of a sectional garage door ranges from $1,000 to $2,000, and installation costs can be as low as $200.
Tilt-up
A tilt-up garage door is a type of garage door that is hinged at the top and opens by rotating on a central axis. It can be extended to a 90-degree angle, 180 degrees, or 360 degrees.
The tilt-up garage door type is a great option for those who want to enjoy the convenience of an automated garage door opener without having to spend too much money on installing an automatic opener system.
Pros
More energy-efficient than other doors because they don't need an opener motor to open them up
Easier to maintain because they don't have any moving parts except the hinges and side rails
Cons
Heavier than other types of doors, making them harder to install and maintain
Can be challenging to assemble and install
The average cost of tilt-up garage doors with materials and installation is $500-$1,500.
The best part about this type of door is that it doesn't require any concrete foundation work, which means that it can be installed on nearly any kind of surface.
A walk-through type is a good option when you want to make sure that you can exit the house without opening the garage door again.
It is also a good choice if you have an electric car since it doesn't require much space for opening and closing.
Pros
Can be opened from the side it's installed on, which means that it does not take up any more space than a traditional overhead style garage door
More energy-efficient than an overhead style because there are no open gaps for warm air to escape in the winter and cold air to enter in the summer
Offers better security because it can't be lifted up to allow someone to climb into the home or office above the garage as a traditional overhead style could
Cons
The cost of installation is higher than an overhead style
The cost for this type of garage door depends on its size, material, and installation location but usually ranges from $1,000 to $4,500.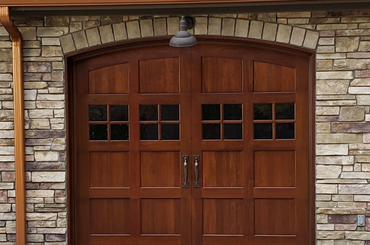 The carriage house garage door type is an excellent choice for those who want to maintain that traditional rustic look. This type of garage door is typically made of wood and has a decorative appearance. It is also one of the most affordable options, with prices starting at about $1,000.
It typically has a steel panel on the bottom and can be seen as a hybrid between an overhead and a sectional door.
Pros
Less expensive because they don't need to be installed on tracks
Secure because they have steel panels on the bottom, which make it difficult for someone to break in
Rolling up process is very efficient because it takes less time than other types of doors
Cons
Can be inconsistent because the panels on the bottom can shift, although this doesn't happen often
The Carriage House garage door type is a single-panel door typically installed on the front of the garage.
Get Started With Garage Door Software!
With features like scheduling, dispatching, reporting, invoicing, and more, garage door service software can help you manage your business more successfully.
Materials
Steel doors are the most common and affordable, but they're also the heaviest. Steel garage doors typically cost between $600 to $2,500.
Wood is also popular because it looks great, but it can warp or rot if it gets wet or is exposed to too much humidity. Wood doors range between $1,000 to $5,000.
Composite doors offer a good middle ground with many benefits of both steel and wood doors. However, they are not cheap. They can cost anywhere from $1,000 to $5,000, depending on the door type and the style. Composite garage doors are an excellent option for homeowners who want a sturdy, long-lasting door that doesn't need to be painted or stained.
Aluminum garage doors are more expensive than steel, but they offer more insulation and durability. Aluminum garage doors range from $600 to $3,000.
Fiberglass is a popular alternative to steel because it is lightweight, inexpensive, and has good insulation. Fiberglass costs around $900 to $3,000, but it can be more expensive if you want a custom design or features like windows or a skylight in the roof.
Pegboard costs less than $100 for an 8-foot x 4-foot standard size, about $50 for a smaller one.
Brands
There are many different brands of garage doors out there, with each brand having its unique qualities. Some of these brands include:
Amarr
Clopay
Genie
Overhead Doors
Raynor
Amarr garage doors can withstand harsh weather conditions, which means they won't need to be replaced for years.
Another benefit is that Amarr garage doors can be customized to match any home's style and personality. You don't have to worry about your garage door looking out of place with your home's exterior or interior design.
Lastly, Amarr garage doors come with a lifetime warranty covering all parts and labor for as long as you own your home!
The cost of an Amarr garage door varies depending on the type of door, the size, and the material. However, the average price ranges from $500 to $4,000.
Clopay garage doors is one of the leading garage door companies in the United States and Canada. They have been in business for over 50 years and have a reputation for being one of the best brands on the market.
One of the most popular products from Clopay is its residential garage doors.
Some features that Clopay offers include:
Energy-efficient insulation
Insulated steel panels
Weather seal protection against wind and water infiltration
Lifetime limited warranty
Clopay Garage Doors are available in different styles, colors, and materials. This makes it easy for homeowners to find the perfect door for their homes. The average cost of Clopay Garage Doors is about $470 – $4,700 per door.
Genie offers a high-quality product and provides many benefits. The average cost for a Genie Garage Door is $550 to $1,300. Genie has been around for over 40 years and has been manufacturing some of the best garage doors.
They also offer the latest energy-efficient technology to help homeowners save on their monthly energy bills.
Genie Garage Door Benefits:
Residential garage doors are designed with safety in mind.
Commercial garage doors are designed for heavy use in commercial buildings such as schools, hospitals, or office buildings. These units have a longer life expectancy and are built to withstand constant use from employees or customers.
Genie offers the industry's most comprehensive line of accessories for residential and commercial applications – everything from weatherstripping to gasketing, insulation, and sealing in one-stop shopping
The Genie company also has a warranty program that guarantees that if anything goes wrong with your product, you can get it repaired for free, no questions asked.
Overhead Doors garage door has many benefits that make it worth the money. However, the average cost of an Overhead Doors garage door is $1,000 to $4,000, depending on the size and features you want.
Overhead Doors offer very durable products. They are typically made from steel and aluminum, making them resistant to rust, corrosion, and termites.
Overhead Doors also offer an energy-efficient option as they can be insulated with foam or fiberglass insulation panels for further savings on heating and cooling costs.
Raynor Garage Doors are designed to last for decades. They are made of heavy gauge steel, and they come with a lifetime warranty. The company also offers a wide range of colors and styles so you can find the perfect one to match your home's exterior.
Raynor Garage Doors is a company that has been in business for over 50 years. That is one of the most trusted brands in the industry. They offer a wide range of garage door products and services, including installation, maintenance, and repairs.
In addition to this, Raynor Garage Doors also offers their customers an installation guarantee. This means that if you are not satisfied with your garage door installation within 30 days of being installed, they will come out and fix it free of charge.
Raynor Garage Doors has an average cost of $1,527 for their doors. This price does not include installation costs which are an additional $1,000-$2,000 on top of the purchase price.
Custom
Custom garage doors are made to order and can be designed with various options. You can get a custom door in any color and style, including wood, aluminum, steel, or vinyl. They are available in various shapes and sizes so that you can find the perfect one for your space.
Custom garage doors are expensive and can cost up to $10,000. The cost of a custom garage door starts at around $1800. There are many different types of custom garage doors, including wood, aluminum, steel, and fiberglass
Insulation and Windows
Garage doors are a significant source of heat loss in homes. Garage doors can also make a home's interior temperature fluctuate significantly during the day.
Insulation
Insulation helps to reduce temperature loss by trapping air, which is an excellent insulator, in between two layers of material. This also reduces sound transmission and provides additional protection from fire and other hazards.
Two examples of insulation that are commonly used on garage doors are foam and fiberglass.
Foam typically offers a better R-value, but it also has a higher cost than fiberglass. The R-value measures how well the material prevents heat from escaping through it. The higher the R-value, the more effective it will be at insulating your garage door.
Windows
Garage door windows are a great way to let natural light into your garage. They also provide security and safety for your home. Garage door windows can be installed on both sides of the garage door or just one side.
In addition, there are many different types of windows that you can install on your garage door. For example, you may want to install a window that opens to access fresh air or for ventilation purposes.
The cost of a garage door window largely depends on the size, type, features, installation process, etc. For example, the average price for an aluminum garage door window ranges from $700 to $3500.
Garage Door Opener
Depending on your requirements, you may want to go for a chain drive or belt drive system, an electric opener, or even a remote-controlled opener. Again, the cost of these products varies depending on the type and brand that you purchase from.
The average cost for a residential garage door opener ranges from $200 to $700. A commercial garage door opener can range from $700 to $1,500. Of course, the price also depends on installing it yourself or hiring a professional company to do it for you.
Permit Considerations
Garage door permits are required for many different reasons. In some states, permits are required for installation, while in others, they are not. Some states require a permit if the door is used as a fire exit. It is essential to know the requirements in your area before you make any decisions about how to proceed with your project.
In many cases, garage door permits can be obtained at no cost. However, fees may be associated with the application process and inspection visit.
The most expensive permit is in California, which is $150. The least costly permit is in North Dakota, which costs $5.
Additional Garage Door Services
Unfortunately, it is not uncommon for people to neglect their garage door until it becomes a significant problem. To avoid serious issues with your garage door, here are some things you should keep in mind:
Repair your garage door as soon as possible if it starts making strange noises or has become damaged.
If the sensors on your garage door have been triggered too many times and the lights don't turn off when you open the doors, call an electrician to check on them.
Regularly test your emergency release cord to make sure that it will work if needed.
Inspect all of the hinges and hardware on your garage door to ensure they're in good condition.
When you hire a company to repair or remove your garage door, you should make sure that they provide the following services:
Installation and replacement
Regular maintenance
Emergency services
Repair
The most common type of garage door repair is the spring replacement, which costs between $100 and $200.
Another common type of garage door repair is the opener replacement, which costs around $100 to $300.
The most expensive type of garage door repair is the torsion spring replacement, which typically costs between $100 and $1,000. However, this type of garage door repair can be avoided by periodically checking your springs for any signs of wear or damage.
Types of Garage Door Repair:
Broken spring
Bent or warped panels
Broken cable
Damaged opener
Removal
Garage doors are usually removed when they are too old, damaged, or broken. They are also removed if they don't fit the design of the house anymore. There are many reasons you may need to remove your garage door, and it's essential to understand all of them before you do anything drastic.
Removing a garage door is around $30-$200 depending if it's for a single or two-car garage.
Electric
Garage Door Electrical Work is a necessary service for anyone who owns a garage door. However, it can be dangerous to fix this type of problem on your own as it can lead to injury or even death. A professional will know how to fix the problem quickly and efficiently, reducing any downtime for you or your family.
The average cost for this type of work ranges from $50 to $500.
Cost by Geographic Location
The cost to replace garage doors varies from location to location.
The average garage door replacement cost in the United States is about $1,200.
The average garage door replacement cost in Canada is about $1,500.
The average cost of garage door replacement varies by geographic location. For instance, the average price in New York is $1,000-$3,000, while the average cost in Dallas is $700-$2,500.
This is because the labor cost, cost of living, supply, and demand vary by state.
FAQs
Can I install a Garage Door Myself?
Do-it-yourselfers are always looking for ways to save money.
However, it is not recommended for someone who has never done it before. That is because you will need to be able to lift heavy objects and have a certain level of technical skills.
That said, the tools you need are not too expensive, and there are tutorials online that can help you through the process.
Does a Garage Add Value to My Home?
The value of your home will increase with the addition of a garage because it increases the amount of usable square footage on the property.
A garage door can contribute up to $5,000 or more in value for a home and is typically one of the most expensive parts of any new construction.
People who have garages will often use them as an additional living space or office space for their business. Garages can also be converted into living spaces for rental properties or holiday homes for vacationers.
How Long Does Garage Door Installation Take?
The length of the job depends on the type or style of garage door that you want to be installed or repaired; it also depends on what needs to be fixed or replaced on your door. For example, if you need to replace your springs because they are broken, then this will take less time than installing.
A garage door installation can take anywhere from one day to a few weeks, depending on the type of door and the complexity.
The average time for a professional garage door company to install a new garage door is one day.
However, the length of time it takes to install new doors will depend on many factors, including:
Complexity of the installation
Type of garage door
Type of service
Conclusion
Garage doors are one of the most integral parts of a home. They provide safety and security to your home and family. The average cost of a garage door replacement is $500-$1,500. However, the price can vary depending on the type of door you choose and where you live.
For a garage door replacement, the materials you need are steel tracks, springs, cables, a torsion spring assembly, hardware, and weather seals. These materials can vary anywhere from $300-$600 depending on the type of material you choose to buy.
Professionals should replace garage doors because they know how to do it without causing any damage to your property or injuring themselves in the process.
Start Using Garage Door Software!
Garage door service software helps you run your business more efficiently with features such as scheduling, dispatching, reporting, invoicing, and more.